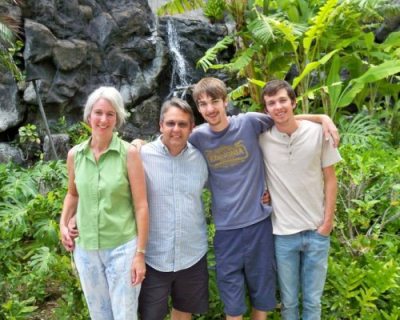 ---
Pastor Bob was born and raised in central Washington in the city of Yakima. He invited Jesus into his heart at the age of six and was called into the ministry shortly thereafter. Bob started his music career at the age of six years old, learning to play the guitar and later the piano. He is a pastor, worship leader, and songwriter. His life's mission is to challenge people to live a life that is abandoned to Christ.
In 1983, he met the love of his life, Carole, and they were married in 1985. After a 3 year term in the United States Air Force, Bob and Carole became Student Ministries Pastors of Southside Assembly of God (currently known as Southridge Community Church) in Spokane, Washington. In 1991, changes came in the way of a small gift named Aric Lewis, as well as a move to Hamilton, Montana after accepting a position as Student Ministries/Worship Pastor at Hamilton Assembly of God.
In 1993 another small gift, Gregory Clarke, was born, and after spending two and one half years in the beautiful Bitterroot Valley, another move ensued to the Greater Lower Yakima Valley, specifically Sunnyside, Washington. From 1994 to 2002, they enjoyed a wonderful time of youth and worship ministry at Neighborhood Church. In October of 2002, the North family moved to Spokane for a short stay, until the call came to return to Sunnyside as the Lead Pastor. July 1st, 2003, was their first Sunday as the new pastors of Neighborhood church.
Bob's greatest desire is to be a man of indisputable character as a Christian, husband, father, and pastor. He is currently finishing up his Bachelors degree with Global University. His favorite quote is, "If you're not living life on the edge you're taking up too much space". One of his favorite things about ministry is watching people succeed in obeying God's word and using their God given gifts. Together with Their two sons, they desire to model authentic Christianity in the midst of real relationships.